CAN YOU PUT A PRICE ON YOUR PRODUCTIVITY?
CAN YOU PUT A PRICE ON YOUR PRODUCTIVITY?
Without reliable power quality resources, thousands of dollars are lost per minute in direct costs such as damaged components and equipment, extra maintenance costs, failed component replacement costs, liability for health/safety, and loss of revenue due to downtime. You will never be more aware of the value of your power quality products than when they simply function properly and protect your company's productivity. When failure is not an option, Reliabl is the power quality resource prepared to maximize your uptime with a variety of products.
3 Phase UPS: balanced, Efficient, Industrial Power
With three times the power of a single phase uninterruptible power supply (UPS), and load-balancing capabilities, three phase UPS are the most efficient way to deliver industrial backup power. Whether you need to power large equipment or distribute power across long distances, a three phase power supply system from Mitsubishi Electric delivers the ideal backup power for your applications. Discover how our three phase power supply models maximize your business' uptime.
Three Phase UPS: 10 to 2000 kVA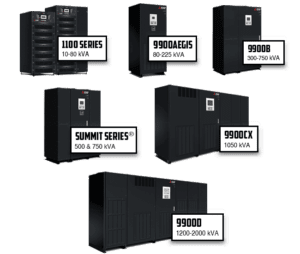 Mitsubishi Electric's high-quality three phase UPS span a wide range of power outputs to deliver efficiency and reliability at the level you need. Our three phase uninterruptible power supply systems are designed to be modular and expandable, so you can increase your backup power support as your needs change.
Supported by SiC technology, online double conversion and compatible with a range of battery solutions, including lithium ion, you can rely on our three phase UPS products to protect your equipment. From server room UPS to large capacity UPS for data centers, we can help you find the best UPS to ensure maximum uptime and a balanced power load.
The 7011B UPS from Mitsubishi Electric is a true online, double conversion single phase UPS that will protect your equipment from disruptions in power, such as brown-outs, line noise, voltage transients, and power outages.
If you're looking for the best uninterruptible power supply for individual computers, small networks, communications systems, and security systems, the 7011B is ideal. This backup solution is simple to start up, operate, and maintain.
Single Phase UPS: 6 to 12 kVA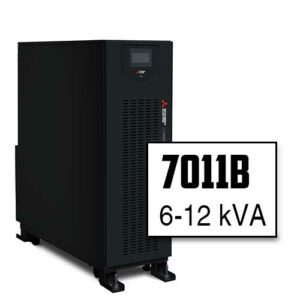 480V / 80, 100, 150, 160, 225 kVA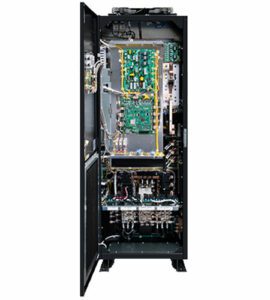 The 9900AEGIS model is the lower range of kVA sizes in the popular 9900 Series of UPS from Mitsubishi Electric.
It is a three-phase, online double conversion UPS featuring Mitsubishi Electric's world-renowned 3-level Topology Insulated Gate Bipolar Transistor (IGBT) technology for enhanced performance and reliability.
The 9900AEGIS is a transformerless UPS that has earned the ENERGY STAR rating for its high-efficiency (up to 97%) performance.
When uptime and performance are critical, its reliability and energy-efficiency make it the perfect fit, especially since this efficiency is maintained regardless of the load – crucial in data centers where loads can range anywhere from 25% to 80%.
The 9900D UPS from Mitsubishi Electric delivers the highest reliability to satisfy the relentless demands of cloud and colocation data centers.
This system is responsive, shielding from power transients with advanced control and power module redundancy.
While it is a large UPS, it's significantly smaller than competitive models within its output range, and its efficiency allows you to do more with a single unit than competitors.
This combined reduces gray space, cabling and installation time, and freight costs.
480V / 1200, 1250, 1500, 1600, & 2000 kVA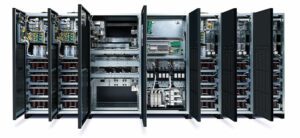 480V / 1050 kVA (1000 kW)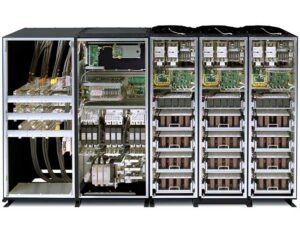 Delivering reliability at unprecedented load capabilities – and in a fraction of the footprint required by competitor models – the 9900CX Uninterruptible Power Supply from Mitsubishi Electric boasts a high power density.
So, while it is a large UPS, it's significantly smaller than competitive models within its output range, and its efficiency allows you to do more with a single unit than competitors. This powerful UPS is designed specifically for the relentless demands of cloud & colocation services.
Available as 1050 kVA/1000 kW model
Mitsubishi Electric IGBT technology produces extremely high (up to 97%) and flat efficiency curves
Elimination of mechanical wear on rotary systems
Lithium Ion, VRLA, VLA, and Pure Lead compatible for greater flexibility
Need a server room or IT backup UPS?
The DiamondPlus® 1100 Series of Uninterruptible Power Supplies from Mitsubishi Electric deliver high performance power protection and reliability for lower, but still critical, loads – all in a smaller footprint.
Our modular UPS is compact, but designed with room to expand. Save on upfront costs by purchasing the UPS sized for the load you have now and reserve the option to expand when needed.
Hot swappable UPS power modules provide redundancy and maximum flexibility for expansion, as well as rapid maintenance and repair. A perfect server room UPS, it is also ideal for network closets, control rooms, and edge data centers. Learn more about our compact UPS options.
120/208V / 10 to 80 kVA UPS