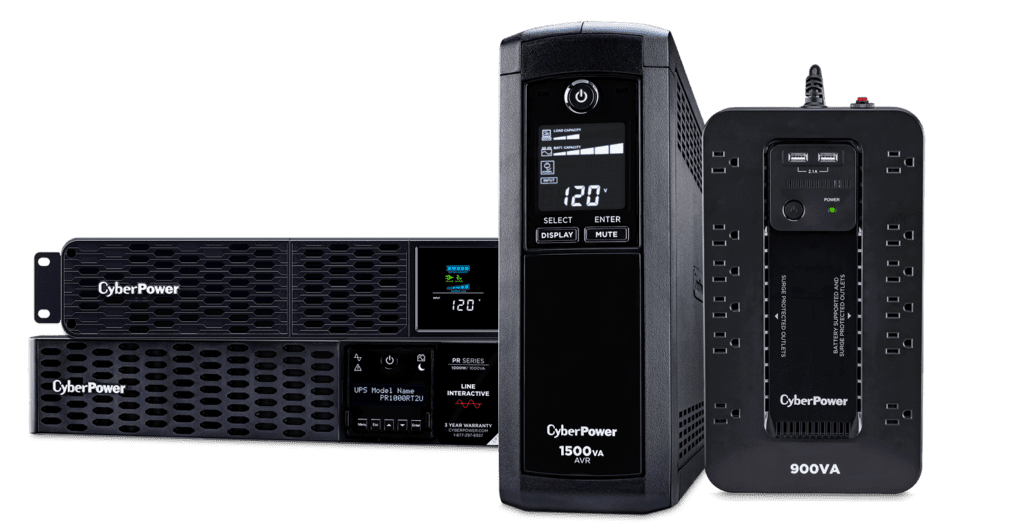 Powering Your Business with Cutting-Edge CyberPower UPS Solutions
Introduction
In today's technology-driven world, uninterrupted power supply is critical for businesses to maintain productivity, safeguard data, and protect valuable equipment. To ensure seamless operations, investing in a reliable Uninterruptible Power Supply (UPS) system is a must. In this blog post, we will explore the top-notch UPS products offered by CyberPower, a leading name in power protection solutions.
1. CyberPower Smart App Online UPS
The CyberPower Smart App Online UPS series is designed to deliver high-performance power protection for critical applications. With its true double-conversion topology, it provides seamless power even during blackouts, surges, and voltage fluctuations. The Smart App Online UPS ensures maximum reliability for data centers, network closets, and other mission-critical environments.
2. CyberPower Smart App Sinewave PR1000LCDRTXL2U UPS
The CyberPower Smart App Sinewave PR1000LCDRTXL2U UPS offers premium power protection with sine wave output, ensuring compatibility with sensitive electronic equipment. Its multifunctional LCD panel provides real-time UPS status updates and easy configuration. This UPS is suitable for small to medium-sized businesses seeking superior performance and reliability.
3. CyberPower CP1500PFCLCD UPS
The CyberPower CP1500PFCLCD UPS provides pure sine wave output, guaranteeing seamless power delivery to sensitive devices such as servers, workstations, and networking equipment. Its Automatic Voltage Regulation (AVR) technology stabilizes voltage levels and safeguards against brownouts and overvoltages. The CP1500PFCLCD UPS is an excellent choice for home offices and small businesses.
4. CyberPower Smart App Sinewave PR1000LCDRTXL2U UPS (Repeating to remove duplicate)
5. CyberPower OL10000RT3UPM UPS
The CyberPower OL10000RT3UPM UPS is a high-capacity solution designed for demanding environments, such as large data centers and enterprise applications. Its online double-conversion topology provides maximum power protection and delivers clean power to critical equipment. The OL10000RT3UPM UPS ensures high efficiency and reliability in the most demanding scenarios.
6. CyberPower PFC Sinewave UPS
The CyberPower PFC Sinewave UPS series is engineered to provide efficient power protection for devices using Active Power Factor Correction (PFC) power supplies. With its sine wave output, it guarantees optimal performance and compatibility with modern electronics. The PFC Sinewave UPS is ideal for home entertainment systems and gaming setups.
7. CyberPower OR500LCDRM1U UPS
The CyberPower OR500LCDRM1U UPS is a space-saving solution that fits perfectly in network racks and cabinets. It features Automatic Voltage Regulation (AVR) and energy-saving technology to enhance efficiency and reduce energy consumption. The OR500LCDRM1U UPS is a reliable choice for businesses looking to optimize their power infrastructure.
8. CyberPower CP1500AVRLCD UPS
The CyberPower CP1500AVRLCD UPS is a versatile UPS system suitable for home and office use. Its compact design and multifunctional LCD panel make it easy to use and monitor. With its simulated sine wave output and automatic voltage regulation, the CP1500AVRLCD UPS protects connected devices from power disturbances.
9. CyberPower PR2200LCDRT2U UPS
The CyberPower PR2200LCDRT2U UPS is a rackmount UPS solution with an energy-efficient design and pure sine wave output. Its innovative GreenPower UPS™ technology reduces energy consumption and lowers operating costs. The PR2200LCDRT2U UPS is an excellent choice for businesses seeking scalable and reliable power protection.
10. CyberPower PR3000LCDRT2U UPS
The CyberPower PR3000LCDRT2U UPS offers a high-capacity power protection solution for demanding IT applications. Its rackmount form factor and pure sine wave output make it ideal for data centers and server rooms. The PR3000LCDRT2U UPS ensures uninterrupted power supply to safeguard critical systems.
Conclusion
CyberPower's comprehensive lineup of UPS solutions caters to businesses of all sizes, providing reliable and efficient power protection. Whether you need seamless power for data centers, home offices, or enterprise applications, CyberPower has a UPS product to meet your specific needs.
Investing in CyberPower UPS systems guarantees uninterrupted power supply, protecting your valuable equipment, data, and productivity. Stay powered, stay protected, and stay ahead of the competition with CyberPower UPS solutions. Choose CyberPower to power your business with confidence and efficiency.